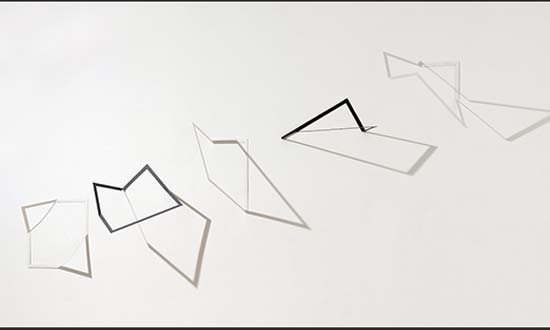 GRAZIA VARISCO
ALLINEAMENTI SCORREVOLI RICORRENTI
Allineamenti scorrevoli ricorrenti is the title of the exhibition that La Triennale di Milano dedicates to Grazia Varisco, with the intention of fully highlight the capacity with which the artist forges spaces and horizons, retaining the work in a state of poetic imbalance, where the metal appears liquid, the shadow is a sculptural body, the red thread of one of the works seems to stretch over time even more than in space, and the geometric logic of all the works is clear, coherent, yet it seems decided by breath of the wind. The works featured in the exhibition span the perio that goes from the early 80s, with works such as the Gnomoni, to the recent works such as the series of Quadri comunicanti and Ventilati from 2015.
Curated by Elena Volpato
La Triennale, Milan
6 October – 12 November 2017
Photo by Thomas Libis. Grazia Varisco, Gnomoni, 1986. Courtesy Grazia Varisco and Cortesi Gallery.