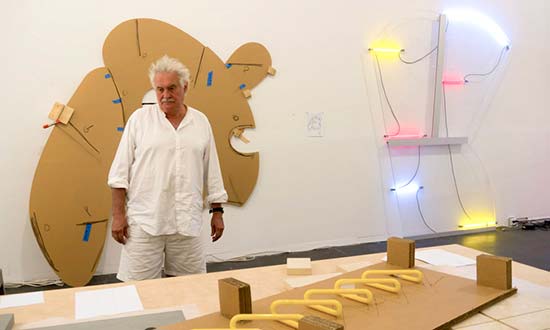 KEITH SONNIER
GALLERIA FUMAGALLI REPRESENTS IN ITALY AMERICAN ARTIST KEITH SONNIER
Keith Sonnier is among the first and most significant representatives of a generation of artists who pioneered a radical approach to sculpture. Since the late 1960s he has challenged its preconceived notions by experimenting with industrial and ephemeral materials ranging from latex and satin, to found objects, transmitters and video. In 1968, he began creating wall sculptures using incandescent light and then started experimenting with neon with the aim of giving new form to light and new meaning to the material. Using copper tubing as a template, Sonnier began sketching lines, arches, curves and color which interact with the surrounding architecture.
Galleria Fumagalli looks forward to its first presentation of the artist's work at miart, International Fair of Modern and Contemporary Art in Milan (13 – 15 April, 2018), which will be followed by Keith Sonnier's first solo exhibition, curated by Annamaria Maggi, in the gallery's Milanese space in September 2018. The exhibition will document the evolution and the poetics of the artist's work ranging from the first historical pieces from 1968 to the more recent work.
Keith Sonnier (Mamou, Louisiana 1941) radically reinvented sculpture in the late 1960s. After graduating with a B.A. from the University of Southwestern Louisiana, Lafayette in 1963, he went on to receive an M.F.A. from Rutgers University in 1966. Employing previously unusual materials, Sonnier, along with his contemporaries, Eva Hesse, Barry Le Va, Bruce Nauman, Richard Serra, Joel Shapiro, Richard Tuttle, and Jackie Winsor, called all previous concepts of sculpture into question. He experimented with a wide range of materials, and in 1968 began working with neon, which quickly became a defining element of his work. Sonnier has been the subject of more than 130 solo exhibitions and has participated in more than 360 group exhibitions throughout his career, including: Documenta 5, Kassel (1972); Keith Sonnier: Neon (1989) at the Hirshhorn Museum and Sculpture Garden, Washington, D.C.; Keith Sonnier: Porte Vue (1979) at the Musée National d'Art Moderne, Centre Georges Pompidou, Paris; Projects: Keith Sonnier (1971) at the Museum of Modern Art, New York; the Venice Biennale (1972, 1982); the Whitney Museum of American Art's 1970 Annual Exhibition: Contemporary American Sculpture, Biennial Exhibitions (1973, 1977) and The New Sculpture 1965 – 1975: Between Geometry and Gesture (1990) which then moved to the Museum of Contemporary Art in Los Angeles. In 2000, the artist created Millennium 2000, a temporary neon installation on the four façades of Peter Zumthor's Kunsthaus Bregenz in Austria, in conjunction with the exhibition Keith Sonnier: Environmental Works 1968-99. In 2004, the artist created one of Los Angeles's largest public installations entitled Motordom. In 2013, the artist's work was exhibited in Venice in the exhibition organized by the Prada Foundation When Attitudes Become Form: Bern 1969 / Venice 2013 (curated by Germano Celant). His works are part of numerous public and private collections worldwide.
Photo by Caterina Verde