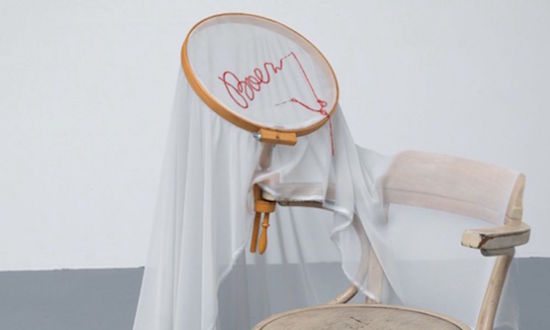 MARINUS BOEZEM
BLACK AND WHITE. SYMBOLIC MEANING IN ART AND DESIGN
TextielMuseum presents the exhibition "Black & White | Symbolic Meaning in Art and Design" displaying works from the museum collection which show how contemporary artists and designers interpret the symbolic meaning of black and white, often associated with essential questions about identity, life and death. The installation by Marinus Boezem "The Absence of the Artist" (1970) features a pair of dancing shoes, which were placed on the floor in front of a chair stained with white so as to seem that the artist is still sitting.

TextielMuseum, Tilburg (NL)
23 March – 1 March 2020
Ph. Marinus Boezem, "The Absence of the Artist", 1970-1995 (detail).