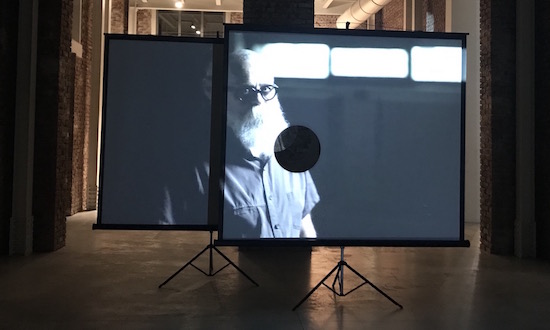 Casa degli Artisti inaugurates Portrait #4, a video installation by German artist Peter Welz dedicated to AA Bronson, cofounder of the artist collective General Idea. Since the end of 90s, Peter Welz has developed an original kinetic perspective using video as a sculptural expression of moving bodies. His work is characterized by multimedia choreographic installations that include sculpture, painting, video and dance. Since 2005 he has been working on the Portrait series, a study on four subjects: Francis Bacon, Casa Malaparte, Michelangelo Antonioni, AA Bronson. Started in 2019, Portrait #4 is dedicated to Canadian artist and curator AA Bronson. The set-up conceived for Casa degli Artisti consists of two video shooting sequences that portray AA Bronson from different perspectives reproduced on self-supporting projection screens, set opposite each other. Circular cut-outs that recall the rotating movement of the cameras and the cutting of video tracks, create a sculptural and three-dimensional image through the screens. By staging a single figure without a scenic and narrative context, AA Bronson remains imperturbable in front of the camera that rotates around him like the perpetual flow of time.
Casa degli Artisti, Milano
18 February – 1 March, 2020 | 12pm – 10pm
Peter Welz, Portrait #4 [AA Bronson | single projection | double screen], 2019. Courtesy Galleria Fumagalli, Milano.