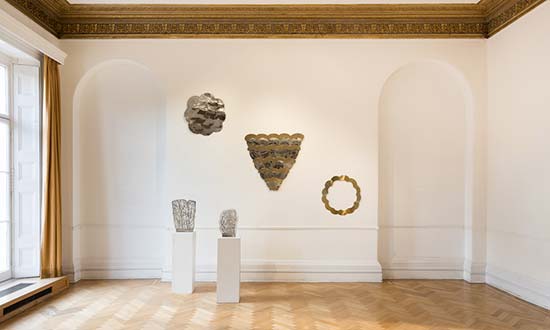 PIETRO CONSAGRA
TIES | LEGAMI II: PIETRO CONSAGRA & MARINE HUGONNIER
The Italian Cultural Institute in London presents the exhibition TIES | TIES II, the second chapter of the series of exhibitions dedicated to Italian post-war sculptor, Pietro Consagra (1920 – 2005). Also including new works by French artist Marine Hugonnier (b. 1969) in dialogue with historical works by Consagra, the exhibition will explore how, through the media of sculpture and collage, Consagra and Hugonnier test cultural environments to establish a new relationship between the observer and the space. The works by Hugonnier, including the new collages from the Art For Modern Architecture series, will be displayed alongside sculptures by Consagra from the 1960s and 1980s to encourage a discussion on how to represent and think in the modern era.
Curated by Artuner
Italian Cultural Institute, London (UK) 
26 September – 20 November 2017
Photo: Installation view TIES | LEGAMI II, Italian Cultural Institute, London. Courtesy Artuner.