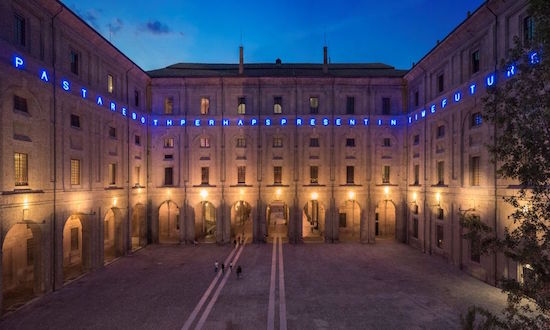 MAURIZIO NANNUCCI
TIME, PAST, PRESENT AND FUTURE
TIME, PAST, PRESENT AND FUTURE is the largest permanent work by Maurizio Nannucci in Italy and the winner of the fourth edition of the international competition organized by the Italian Council. The neon installation, 190 meters long and featuring 55 letters made of  neon glass from Murano illuminated by blue light, will be on view and lit up around the four sides of San Pietro Courtyard, creating a monumental new entrance to the building. On the opening day, video artist from Berlin Lillevan will be performing the specially written piece Eventually Elusive, which interacts with the neon installation.
San Pietro Courtyard, Pilotta Monumental Complex, Parma
Opening 22 November 2019 from 4.30 pm
Photo: Maurizio Nannucci, TIME, PAST, PRESENT AND FUTURE (2019), supported by Italian Council (2018).
Watch the video by Francesco Campanini on Maurizio Nannucci's installation.