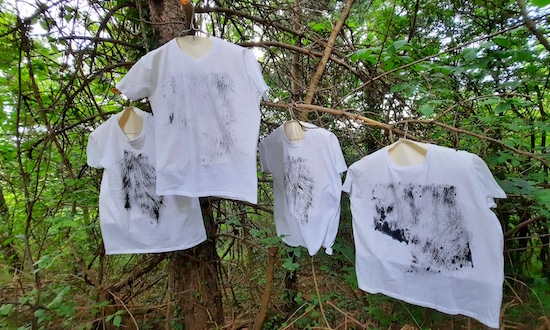 Chiara Lecca presents the project Clarulecis: a family collective that operates in an open-air studio located in the Apennine woods next to the family farm. Thus, Lecca adds to her art practice – which has always been based on natural and animal materials – new collaborations and conviviality, along with her more individual and intimate approach.
The project was conceived after the lockdown period, which led the artist to pause the exhibition projects scheduled for the current year. A pause that has drawn attention to the production of everyday objects transformed into art object, through which Lecca re-elaborates the concept of "skin" that has always been the cornerstone of her research, not only for its organic value but also meant as a border between inside and outside. The project has started with a series of Primitive T-shirts imprinted using rural finds as matrices, to continue with carpets/sculpture, large shawls, and small furnishing accessories.
The title Clarulecis recalls the artist's name in a form that points out the Sardinian origins of her family, who moved to Romagna from the island to found a sheep breeding-based farm. Clarulecis derives from the need to slow down time and to ​​preserve the primordial imprinting that nature has given to us, showing the very close bond with family, meant as history and roots.
Photo: Chiara Lecca, Primitive T-shirt, 2020. Courtesy l'artista.