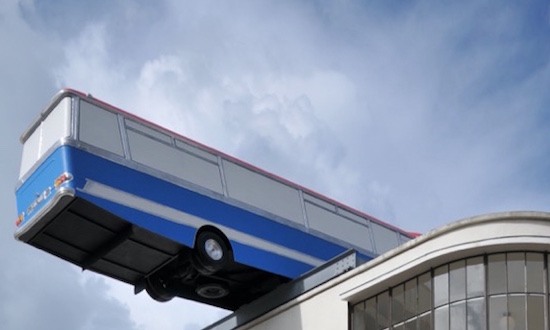 RICHARD WILSON
HANG ON A MINUTE LADS, I'VE GOT A GREAT IDEA
Fifty years after the release of The Italian Job movie shot in Turin, the Gruppo Building, in-kind collaboration with Artissima, presents the work by British artist Richard Wilson Hang on a minute lads, I've got a great idea. Curated by Mark Hinchliffe and Heidi Donohoe, the project is hosted and will be inaugurated at Domus Lascaris during the art fair days (1-3 November 2019). An actual size Harrington bus, inspired by the final scene of the 1969 movie starring Michael Caine, will be placed 20 meters high on the terrace of the fifth floor of Domus Lascaris (via Lascaris).
Domus Lascaris, Turin
1 November – 2 December 2019
Photo: Richard Wilson, Hang on a minute lads, I've got a great idea…, 2012, De La Warr Pavilion, Bexhill on Sea, London Olympiad Festival regional Project 2012. Photo by Nigel Green. Courtesy the artist.