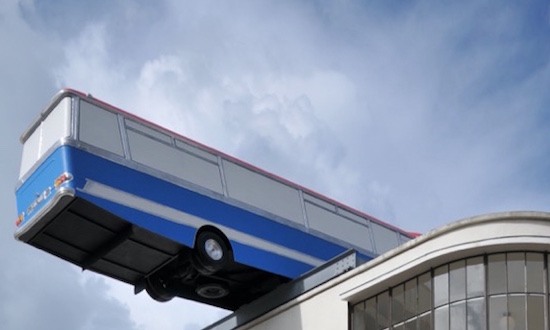 RICHARD WILSON
HANG ON A MINUTE LADS, I'VE GOT A GREAT IDEA
A cinquant'anni dall'uscita del film The Italian Job girato a Torino, il Gruppo Building, partner in-kind di Artissima, presenta l'opera dell'artista britannico Richard Wilson Hang on a minute lads, I've got a great idea. A cura di Mark Hinchliffe e Heidi Donohoe, l'intervento è ospitato e sarà inaugurato a Domus Lascaris durante i giorni della fiera (1-3 novembre 2019). Un autobus Harrington basculante in scala 1:1, ispirato alla scena finale del film del 1969 interpretato da Michael Caine, sarà sospeso a 20 metri di altezza sul terrazzo del quinto piano di Domus Lascaris in via Lascaris.
Domus Lascaris, Torino
1 novembre – 2 dicembre 2019
Foto: Richard Wilson, Hang on a minute lads, I've got a great idea…, 2012, De La Warr Pavilion, Bexhill on Sea, London Olympiad Festival regional Project 2012. Photo by Nigel Green. Courtesy the artist.