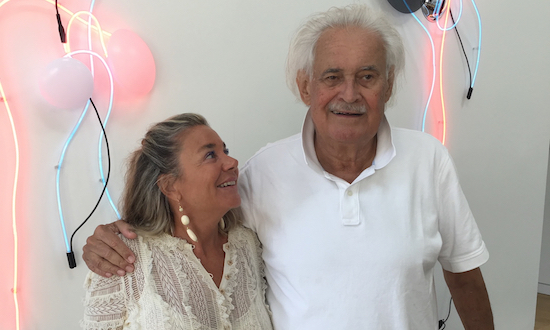 IN REMEMBRANCE OF KEITH SONNIER
Dear friends,
with immense sorrow we inform you that artist and friend Keith Sonnier passed away on Saturday 18 July 2020 in Southampton, New York.
Keith Sonnier (1941-2020) was a great art master, a pioneer of minimalism, post-minimalism, performing art, as well as a sculptor of light and videomaker.
His light will stay forever in our hearts and his works will inspire us from the museums all over the world.
Galleria Fumagalli had the honour of presenting his first solo exhibition, "Light Works, 1968 to 2017" in 2018, followed by a close collaboration that led to the concept of a second exhibition scheduled for autumn 2020, which will be a special occasion to pay homage to and remember the extraordinary ideas of this artist.
Our thoughts are with the family, Olympia Sonnier, and Studio Sonnier's staff Caterina Verde and Lesley Raeside.
Annamaria Maggi
Galleria Fumagalli, Milano
Photo: Keith Sonnier and Annamaria Maggi, Bridgehampton NY, 2018. Courtesy Galleria Fumagalli