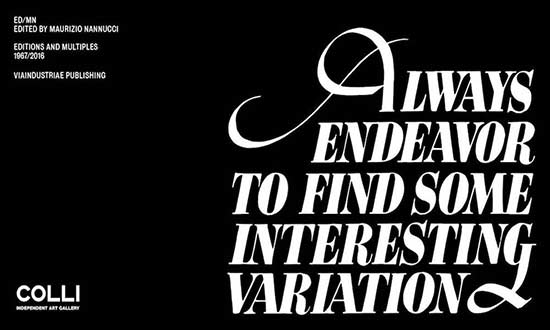 MAURIZIO NANNUCCI
ED/MN EDITED BY MAURIZIO NANNUCCI EDITIONS AND MULTIPLES 1967/2016
Viaindustriae and Colli publishing platform present the book "ED/MN EDITED BY MAURIZIO NANNUCCI EDITIONS AND MULTIPLES 1967/2016", catalog raisonné featuring all the editions and multiples from 1967 to today, edited by Maurizio Nannucci.
The editions and multiples, which represent Nannucci's central and constant practice, are cataloged here in the context of the wide and prolific editorial production of the artist which involves the most important museum institutions, publishers and many international artists. The catalog raisonné of Maurizio Nannucci's editions is organized in sections (multiples, photographs / prints / posters, catalogs, editions, artist's books, audiovisuals, ephemera, contributions) and contains chronological files of the works from 1967 to today. In addition, there is a critical anthology of texts by Carlo Belloli, Christophe Cherix, Stefano Chiodi, Anne Moeglin-Delcroix, Gabriele Detterer, Mario Diacono, Maurizio Nannucci, Hans Ulrich Obrist, Pier Luigi Tazzi, Tommaso Trini.
The book, in English, 408 pages, illustrated in color and printed in 1000 copies, is a publishing project conceived within the exhibition "THINK / NEON MULTIPLES" running until 1st October 2016. The book launch will be held Wednesday 21 September 2016 at 6pm at COLLI independent art gallery in Via di Monserrato 40, Rome. Speakers will include Maurizio Nannucci, Gabriele Detterer and Stefano Chiodi.
COLLI independent art gallery
Via di Monserrato 40, Rome
info@colli-independent.com