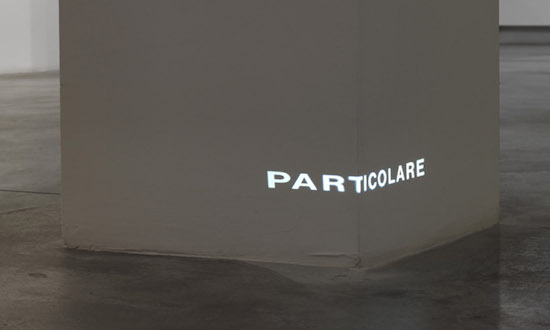 GIOVANNI ANSELMO
INTERMINATI SPAZI E SOVRUMANI SILENZI. GIOVANNI ANSELMO E MICHELANGELO PISTOLETTO
The exhibition, curated by Marcello Smarrelli, aims at exploring the issue of infinity in contemporary art, through the works by Giovanni Anselmo and Michelangelo Pistoletto.
Infinity is one of the central themes in the poetry of Giovanni Anselmo, who presents three significant works dedicated to the subject: "Particolare di Infinito" (1969-1975) consists of numerous graphite drawings that reproduce fragments of the word "infinite" and
it is a utopian attempt to give visibility and measurability to this concept.
"Infinito" (1971), a slide bearing the word "infinite" is projected on the wall by a device placed on the ground: the projector has set the focus to infinity, making the writing illegible.
"Particolare" (1972): a projection that, in this case, is readable on the body of a visitor who is invested by the light, making it part of a universal whole.
Villa Colloredo Mels, Recanati
29 June – 3 November 2019
Ph. Galleria Fumagalli Archive